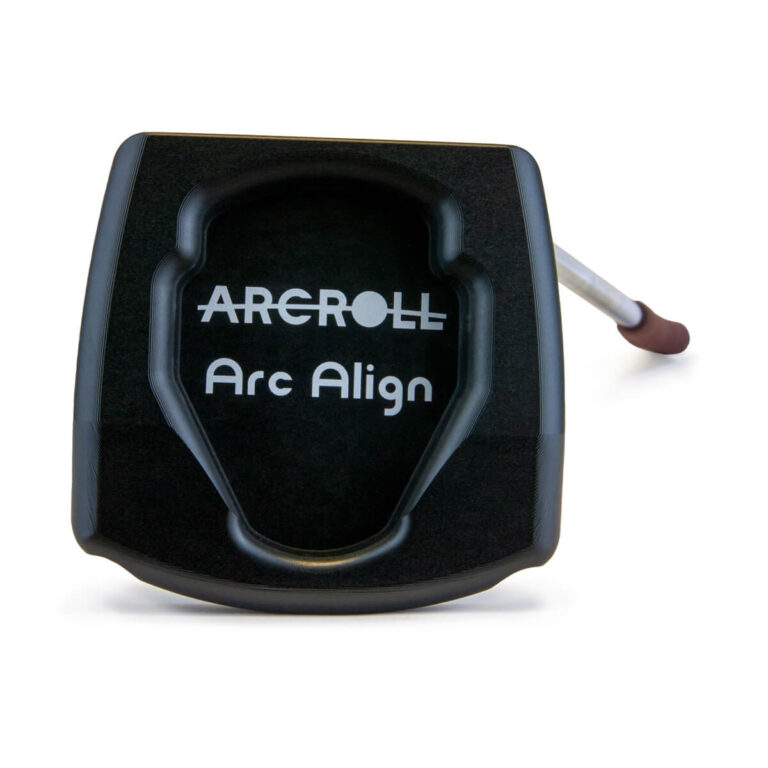 How the DYNAMIC ARC came to be
A vast majority of amateurs attempt to stroke the putter with a straight-back, straight-through motion.  This would be logical, if we were machines.  But we are human beings, and to that end, a more natural arcing stroke is used by most pros.  Tour golfers accept their humanity and practice with a putting arc stroke, often for hours every day.  Their success depends on it.  For years, golfers have used the aid of a practice putting arc to learn the perfect natural stroke, and then try to reproduce it in play.  
So it came to be, that an engineer, who struggled with short putts, decided to put a putting arc as a guide on the mallet putter he was designing.  At first, it seemed to be a unique adaptation of a practice putting arc.  After several re-designs and prototypes, a working model seemed to put the putting arc into play just fine.  But something happened in the process.  Sure, the arc displayed the correct path to be taken, but as soon as the stroke was begun, the putting arc moved along with the putter.  At first, this seemed to be a negative thing.  After practicing with the newly designed putter, however, the true nature of the arc became obvious.  The putting arc on the putter was in motion with the putter.  It was apparent that this moving arc now became a dynamic section of a much larger arc.  What this meant, was that if the orientation of the dynamic sections of the arc were maintained along the curvature of the full arc, a perfect stroke could be produced.  It also guaranteed something that was so much more than expected.  As the dynamic arc sections moved along the larger arc, the putter face necessarily remained square to the curved arc.  In other words, maintaining the integrity of the arc guaranteed that the putter face alignment would also remain square to the arc.  So it became more than just the age old practice putting arc.  It became a putter face alignment tool as well.  The realization that the arc not only displayed the path to be taken, but also controlled the orientation of the putter throughout the stroke, was quite a discovery to the engineer within the designer.  
Then came the practice.  Every stroke, guided by that arc, produced a consistent result.  And every stroke reinforced the previous one.  The engineer, who fully trusted in science, couldn't help but let his belief in physics relieve the stress of trying to be perfect.  His stroke became better and better.  It was as if he had a teacher, looking over his shoulder, watching every stroke.  But that teacher may just as well have been Sir Isaac Newton, himself, telling the golfer to just trust in science, and follow the DYNAMIC ARC.